The All About that biz: LAUNCH
5-Day Challenge (april 6 – 10)
Stop dreaming & start strategizing!
This FUN, empowering, and interactive Challenge is for any woman
who dreams of becoming a coach, consultant or other service-based online entrepreneur.
Plan out your idea, audience, signature offer, headline, and brilliant brand over the course of 5 days.

The basics, the content, the hands-on support – I've got you covered
(and did I mention it's absolutely 100% FREE?!)
...thinking about launching an online biz
but finding it overwhelming to start wrapping your head around it?
...committed to working as hard as you need to get your biz off the ground
but you're not sure what you need to do to make it happen because you don't have a clear strategy?
...So stressed and nervous that you don'T Have what it takes to launch
that you are seriously considering giving up on your dream before you even get started?
That's where this
challenge

comes in!
In up to 
1 hour

a day for

5 days

you strategize five important aspects of your biz: the idea, the audience, the signature offer, the headline, the brilliant brand, (starts April 6), and it's 100% FREE.
step-by-step strategy plan
Each day you get a straightforward actionable and doable strategy plan designed to turn you into a biz-creating pro.
Ditch the overwhelm
Go from feeling overwhelmed and confused to clear-eyed confident action-taker. 
empowered
By joining this challenge, you're empowering yourself to become the entrepreneur you've dreamed about.   
Winner
You + challenge + action = 5 stages of your biz launch done. Way to go!     
And if you need
one more reason

:

You'll do all of this with the support, encouragement, and help of other like-minded people who all share the same goals.
This is how it 
Works
Starting April 6, I will email you one lesson a day that focuses on one planning stage. Your task is to read the lesson and complete your assignment. 
Every weekday morning between Monday, April 6 and Friday, April 10
check your inbox (approximately 10:00 a.m. EST) for an email containing a link to access your mission of the day.
Every day, the challenge of the day will be posted in a private facebook group
where all the participants of the challenge share their work, ideas, and results + get feedback and support from fellow members, and me (course creator). 
Hi!
I am
Mari lee!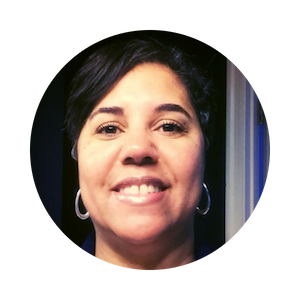 If you don't know me and are wondering why you should even care or listen to what I have to say, let me tell you why. It's because it's one thing to daydream about having a biz; it's another thing to get it off the ground and build it. So, that's where I come in. My superpower is springboarding women entrepreneur dreamers like you to full-blown lady boss biz launchers in as little as 10 days via my – All About That Biz: Launch – online course. What's unique about my course when compared to others is you get the first five lessons + support from me and other participants for FREE simply by participating in the 5-Day All About That Biz: Launch Challenge. 
Starting my first business was an overwhelming experience. And with no one to ask, my stress was through the roof. I don't want you to experience the same. That's why I do what I do and am fiercely committed to making your leap toward
entrepreneurship as painless as possible. 
A little backstory – besides my current biz, I've created two other side hustles in the past. In doing so, I gained a lot of knowledge about what launching an online biz entails. When I realized what a huge source of stress, anxiety, and utter frustration the process to launch is for others too, I knew I had to help in some way. Thus, several weeks later, I created my signature course – All About That Biz: Launch. Both the challenge and course have been game-changers because they save you time, headache, and money while helping you launch like a pro.   
All you need to do is spend approximately 1 hour or so a day for 5 days (starting Monday, April 6) to go through the daily exercise. At the end of the challenge, you've identiifed your target audience, created your signature offer, learned how to grab your dream client's attention, and know what it takes to build a strong brand. If the training you received in the Challenge resonates with you, and if you feel I can help you continue toward launching your business, …
Then through a special offer exclusive to participants, you will have the opportunity to continue working with me for 30 days after the Challenge ends by purchasing the remaining five modules of the All About That Biz: Launch online course at a deep-discounted rate of only $37. But there is no obligation whatsoever. If you decide it's not for you, feel free to walk away at the end of the Challenge with the work you've done without paying one cent. And you still get an outline of your next exact steps for FREE. Either way, you get a ton of value. Hence, you have nothing to lose, everything to gain! So what say you, are you in?
What
EXACTLY

will I be doing in the daily challenges?

You … 
the right biz idea for you.
(Already know your biz idea? Great! You'll complete your assignment in a snap. Don't know which one is right for you? No problem! You'll complete your assignment in two or more snaps.)
the ideal client you want to target and attract, and are eagerly chomping at the bit to help.
the sought-after signature service or offer that has clients lining up at your virtual doors, quickly making you an expert in your niche.
the attention-grabbing headline that piques curoristy, enticing customers to read more on your site or sign up for your lead magnet/freebie (or both). 
the fonts, color palettes, images, etc., to start creating your standout brilliant brand.
This all sounds great
but

what if….
...I don't have an hour a day to complete the daily challenges?
No worries! You can do the daily challenges at your pace and time, any time before April 10.  
...I don't like the challenge after I started?
Then just don't do it! I'm not twisting your arm and it is completely FREE so you have nothing to lose!
...I need help or have questions?
No problem! As long as you join the private Facebook pop up group, you have a supportive, fun, and engaging community of other women like you there to give feedback and answer questions. And I'll be there to do the same. 
You're shaking in your shoes and it's your 50-11th time you said you'd start your dream biz but haven't, or you're ambitious and out-going with no fear in sight, this challenge is for you. You can so do this! 
Together, step-by-step, we tackle 5 fundamental business pillars over the course of 5 days.
What do 
you

 say?

Are you ready to kick your dream to own a service-based online biz in gear?

DISCLAIMER:  This Challenge is FREE. Through a special offer exclusive to participants, you will have the opportunity to continue working with me after the Challenge ends by purchasing remaining five modules of the All About That Biz: Launch online course.  But there is no obligation whatsoever. You don't have to buy anything to get value out of the training in the Challenge. There's nothing about this that's "get-rich-quick".  It is your effort, energy, level of engagement, desire, and dedication that largely determines your outcome. Thus, there are no guarantees you will achieve results or earn any money as a result of your participation in the Challenge or as a result of the purchase of the course or any other offer(s) or service(s) now or in the future.
By signing up, you agree that the content in the challenge is protected under United States and foreign copyright. The copying, redistribution, use, or publication by you of any such Content is strictly prohibited. Your use of our challenge/training does not grant you any ownership rights to our Content.